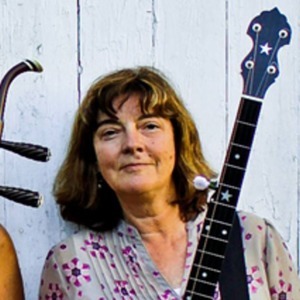 Sue Powers
Special guest
Sue Powers grew up outside of Pittsburgh in a family with deep roots in the musical landscape of Western Pennsylvania. She has been singing and playing banjo since high school. Both of her parents were sacred singers, and both her grandfather and her great grandfather were fiddle players who performed for local square dances in the Appalachian "old time" tradition. Powers is a founding member of the group Devlish Merry, where she pioneered the use of the five-string banjo in Celtic music. The group has released three recordings featuring her playing, singing and song writing. Powers has adapted her unique 'claw hammer' style to blues, rock and pop music, and is acknowledged as a songwriter whose personal imagery evokes the Pennsylvania landscape. The Pittsburgh Post-Gazette has written "...the primary element that makes Devilish Merry unusual is the prominent banjo by Ms. Powers... her polyrhythmic...clawhammer style [explores] inside the rhythm... an Afro-blues style applied to Celtic music...". The Pittsburgh City Paper has written, "[her songs]... convey a sense of drama... her approach to the banjo - a bluesy variation on claw hammer plucking - makes her an original."
Her music has been used in modern and traditional dance, performance, theater, and film, including the Smithsonian exhibit "Lewis and Clark: Clash of Empires", Roger Sayers documentary about "outsider" folk-artist Howard Finster, and Jerry Starr's stage play "Burried: The of the Sago Mine Disaster."
Powers has extended her educational outreach to "Beyond Appalachia" - a workshop and
residency/performance experience that highlights the influence of Appalachian music, from it's roots in the British Isles and Africa to it's branches in Country, Bluegrass, Blues, Jazz, and Rock music. She conducts lectures and demonstrations in schools and universities on the aesthetics of cross-cultural collaboration and creativity, and she was a featured presenter and performer at the last Festival of Woman's Composers conference at Indiana University Pennsylvania.


SPOTIFY: The AppalAsia Playlist
Sue Powers has been a guest on 1 episode.
November 20th, 2017 | 1 hr 38 mins

appalachian, appalasia, banjo, chinese, conception, dulcimer, erhu, erika laing, family, female, female musician, feminism, feminist, fertility, folk, fusion, girl scouts, hurdy gurdy, mimi jong, motherhood, music, musician, pennsylvania, petticoat rule, pittsburgh, podcast, songwriting, sue powers, tara molesworth, woman, women

Cultural folk fusion artists Mimi Jong and Sue Powers from the spellbinding trio AppalAsia visit Petticoat Rule, inspiring us as two very different women finding inspiriting joy in their unique collaboration.