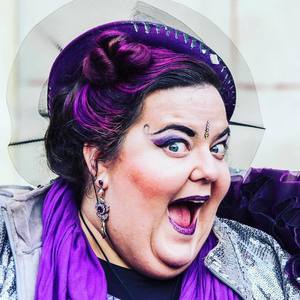 Phat Man Dee
Special guest
Phat Man Dee is a cosmic jazz cabaret vocalist, bandleader, events producer, videographer, poet and part time sideshow marvel. She regularly appears with both her jazz group "The Cultural District" and the sideshow burlesque group "Kabarett Vulgare". She performs live approximately 100 dates a year in nightclubs, theaters, educational facilities, private events and festivals in the Mid Atlantic and California coastal regions. She has been voted in the Pittsburgh City Paper's Readers' Polls of 2010-2014 as one of the top 3 local jazz acts.
Phat Man Dee is an old-fashioned jazz torch singer with a number of new twists. She sings & duets her original compositions and eclectic repertoire of standards in English, Spanish, French and sometimes German and Hebrew. Her performance range is just as wide, spanning opera, theater and burlesque. From blues to filk, from opera to indie, Mandee's range is nothing short of breathtaking. Her 4 independently produced CDs include Life Just Goes On, Torch of Blue, Merry ChristmaChannaKwanzaa Vol 1.1. and her most recent release "Hey Phat Chick!" was released September 24, 2014 in a grand event at Mr Small's Theatre in Milvale, PA.
Liz Berlin (of Rusted Root) and Phat Man Dee (voted Best Jazz/ Blues Performer in Pittsburgh City paper 2016 Readers' Poll) are thrilled to announce their first collaborative recording project, "Social Justice Disco: Songs to Fight Fascists By". Though this new album may have begun as an April Fools joke, "Social Justice Disco: Songs to Fight Fascists By" is fast becoming a reality with recording already underway at Mr Smalls Recording and Mastering Studio. Learn more about the Social Justice Disco project (and donate!) at their Indiegogo Social Justice Disco page!


SPOTIFY: The Phat Man Dee Playlist
Phat Man Dee has been a guest on 1 episode.
September 12th, 2017 | 1 hr 16 mins

activism, black lives matter, body, chanteuse, circus, erika laing, fat, female, female musician, feminism, feminist, freak, individuality, jazz, justice, liz berlin, love, music, musician, petticoat rule, phat, phat man dee, pittsburgh, podcast, rusted root, self love, self-love, singer, social justice disco, tara molesworth, uniqueness, woman, women

Jazz chanteuse and cultural icon Phat Man Dee joins Petticoat Rule to talk about activism through music, respecting history through your creations, and learning to embrace your uniqueness.