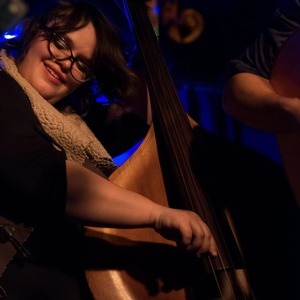 Molly Hebert-Wilson
Special guest
Molly Hebert-Wilson is the bassist for the Philadelphia-based folk band, Sparkle Pony, in addition to several other projects such as The Waysties and Rare Spirits. She and her mother collaborate in the group Mist Covered Mountains as well as in a project called Great Groove Band, which puts instruments in the hands of idle kids at music festivals, giving them the opportunity to perform their own music alongside all the other acts. Molly is multi-talented as she is also an accomplished vocalist and considers this her primary instrument. She has degrees in Irish studies and musical theater from NYU's Tisch School of the Arts. She was a member of NYU's Irish Folk Group at Ireland House and teaches Irish singing and language basics to children and adults at folk schools and festivals.
SPOTIFY: The Sparkle Pony Playlist
Molly Hebert-Wilson has been a guest on 1 episode.
October 9th, 2017 | 1 hr 17 mins

bass, creativity, erika june christina laing, erika laing, female, feminism, fiddle, folk, lewin barringer, mist covered mountains, molly hebert-wilson, mom, mother, mother-daughter relationship, motivation, music, musician, overcoming, petticoat rule, philadelpia, pittsburgh, productivity, rare spirits, singer, singer-songwriter, songwriting, sparkle pony, sunshine superman, tara molesworth, teacher, the waysties, valentina raffaelli, valentina sounds, vocalist, voice, women

Vocalist Valentina Raffaelli and bassist Molly Hebert-Wilson from the Philadelphia-based folk band Sparkle Pony stop by the Petticoat Rule studio to share their many motivating strategies for overcoming one's inner critic while inspiring us with their down-to-earth dedication to their craft.