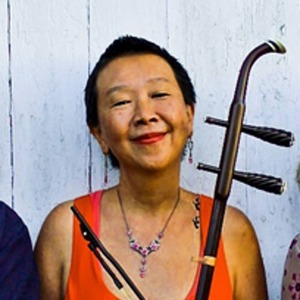 Mimi Jong
Special guest
Mimi has a diverse musical background acquired from growing up in Indonesia, being educated in Germany, and immigrating to the United States. Since age eleven, she has been performing on the erhu, an ancient, Chinese, two-string, bowed instrument. By moving beyond tradition and embracing the erhu's versatility, Mimi has performed with jazz, folk and classical musicians, conducted educational workshops, and performed at music festivals.
With the mission of nurturing cross-cultural connections through art, Mimi has co-founded multiple projects. Partnering with artists from China, Mimi was able to introduce traditional Chinese dance and music to schools in the Western Pennsylvania region. Along with Appalasia, she was a featured presenter and performer at the Festival of Woman Composers conference at Indiana University Pennsylvania. Mimi has also been a returning faculty member of Hundington County Art Council's Folk College. With the group "Silk Sound," Mimi has collaborated with various jazz musicians and tabla master Samir Chatterjee to develop a new voice from ancient and contemporary Asian melodies. Demonstrating her open mind and musical flexibility, Mimi collaborated with Persian santur master Dr. Dariush Saghafi and tombak master Mahmoud Tehrani, creating hauntingly beautiful music that transcends cultures and genres. Bringing erhu to modern movement, Mimi's cross-disciplinary involvements include collaboration with the Mary Miller Dance Company and artist Jennifer Myers' theatrical productions, creating ground-breaking cinematic performances.
Mimi was a recipient of 2014 "Master Artists and Tradition Bearers Award" from Rivers of Steel National Heritage Area. In addition, she serves as the music program director for "Silk Screen Arts and Cultural Organization" and is the board President and founding member of "HarmoniZing," where her contributions include recruiting renowned artists for local concerts and residencies and providing a platform to encourage diversity in Pittsburgh's music scene.


SPOTIFY: The AppalAsia Playlist
Mimi Jong has been a guest on 1 episode.
November 20th, 2017 | 1 hr 38 mins

appalachian, appalasia, banjo, chinese, conception, dulcimer, erhu, erika laing, family, female, female musician, feminism, feminist, fertility, folk, fusion, girl scouts, hurdy gurdy, mimi jong, motherhood, music, musician, pennsylvania, petticoat rule, pittsburgh, podcast, songwriting, sue powers, tara molesworth, woman, women

Cultural folk fusion artists Mimi Jong and Sue Powers from the spellbinding trio AppalAsia visit Petticoat Rule, inspiring us as two very different women finding inspiriting joy in their unique collaboration.