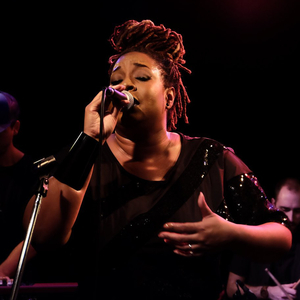 Kiki from The Buckle Downs
Special guest
Kiki is the powerful front woman for Pittsburgh-based rock-soul band The Buckle Downs. Though she never thought she would wind up a musician, she is now a musical force to be reckoned with. In addition to being a leading lady, she coaches vocals and provides her sonorous vocals for many weddings all around the Pittsburgh area -- all that on top of working full time and being a mom. She is some kind of wonder woman!
SPOTIFY: The Kiki from The Buckle Downs Playlist
Kiki from The Buckle Downs has been a guest on 1 episode.
September 10th, 2017 | 1 hr 15 mins

amazing, black, buckle downs, creativity, erika laing, female, feminism, kiki, kiki brown, markila brown, markila kiki brown, minority, music, musician, petticoat rule, pittsburgh, productivity, prog, rock, rock and roll, singer, singer-songwriter, soul, tara molesworth, the buckle downs, woman, women

Powerhouse vocalist Kiki Brown from The Buckle Downs joins Petticoat Rule to talk about how she balances her many roles including musician, mother, on-the-job problem-solver, vocal coach, soon-to-be wife, and black woman in the genre of rock and roll.