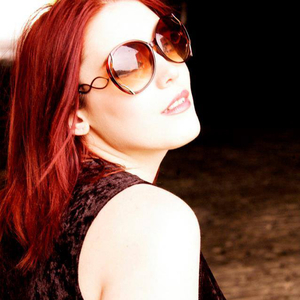 Katie Simone
Special guest
The human voice is a powerful instrument. A great voice can make a listener jump for joy, provide comfort during tough times, pique their curiosity about the world around them, and even transport them back to another place and time. All of this and more can be said about Pittsburgh vocalist Katie Simone. With her rich, , and her retro, bohemian aesthetic, Katie has been referred to by many as an "Old Soul". It's easy to see why - her broad vocal range, expressive phrasing and knack for harmonizing have earned her comparisons to powerful singers such as Lydia Pense, Tracy Nelson, Grace Potter and Bonnie Bramlett.
Katie has been singing since she was a young girl, in fact, she was singing along to the oldies station before she was speaking in complete sentences! It was apparent very early on to Katie's family that she was born to be a performer. As soon as she would open her mouth to sing, the shy little girl transformed into a ball of fire, belting out everything from Led Zeppelin to Stevie Wonder to Etta James, delivering each song with the conviction of a seasoned blues mama. Throughout middle school and high school, Katie performed at various talent shows and sang with a handful of garage bands, and as soon as she was old enough, she began performing at clubs all around Pittsburgh and the tri-state area.
She has shared the stage with and opened for legendary acts such as Bobby Blue Bland, Canned Heat, Anthony Gomes, Robert Belfour, Billy Price, Danielia Cotton, and many more. In 2015, she was named one of Pittsburgh's top new artists to watch by Pittsburgh Newscastic, and she and her band placed 2nd in the Pittsburgh edition of the International Blues Challenge. Katie currently performs in a duo with guitar virtuoso Tom Lagi, also with the veteran Pittsburgh rock band, Three Car Garage. She is also working on an album, a mixture of originals and carefully selected covers, which she hopes to have released by mid 2016. So be sure to check her out, for this soulful, rockin' chanteuse is one act who you don't want to miss!
Make sure to listen to her specially curated Spotify Playlist full of powerhouse female vocalists!
Katie Simone has been a guest on 1 episode.
May 7th, 2018 | 55 mins 8 secs

cover band, cover music, erika laing, female, female guitarist, female musician, feminism, feminist, guitarist, hard work, hustling, indie, karaoke, katie simone, lyricist, motivation, music, music education, musician, petticoat rule, pittsburgh, podcast, power, powerhouse, practice, rock and roll, rock vocals, singer-songwriter, siren, solo, songwriter, tara molesworth, vocal coach, woman, woman musician, women

Stunning vocalist Katie Simone joins Petticoat Rule to talk about her insane schedule as a full time working musician, splitting her time between original solo work, weekend cover gigs, weddings, coaching, and, of course, practicing... as well as a bit of fun thrown in at open stages and karaoke!