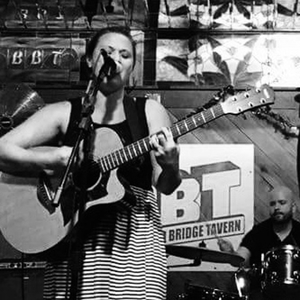 Jocelyn Rent
Special guest
Jocelyn Rent is a musical artist who currently writes and performs with the original Pittsburgh bands, The Rents and Anjroy. Jocelyn's smoky vocals, natural ear for melody & rhythm, provide her a unique vehicle to express herself. That, combined with her intimate lyrics and vulnerable song writing, has provided her many opportunities to work with talented musicians all around Pittsburgh.
Her career as a musical performer and writer began in 2005 with Omega Love. With no formal training, she learned through trial and error how to open up lyrically, vocally, and as a performer on stage. This organic journey through art and music led to numerous friendships, her marriage, two creative children, and now continues to define her as she writes from her experience as a woman, a mother, a partner, a person.
Around 2013 she began writing and performing simpler songs that she'd written on the guitar. These songs were the catalyst for what would later become The Rents, a six-piece rock band with influences ranging from funk to folk to 90's grunge.
Around 2015 she joined the live electronic, indie group, Anjroy. She'd met the guys in Anjroy after being recruited to sing for the professional event group, The Bachelor Boys Band. Jocelyn continues to hone her musical skills through all of these projects and her journey continues forward. These two recordings capture this unique moment on her path.
Check out The Rent's EP, "Being Young," and Anjroy's debut album, "Sonic Sea" via bandcamp.

Don't miss out on her specially curated Spotify playlist!


Jocelyn Rent has been a guest on 1 episode.
December 18th, 2017 | 1 hr 15 mins

anjroy, bachelor boys, bachelor boys band, creativity, erika laing, family, female, feminism, frontwoman, greensburg, husband, indie rock, jocelyn rent, mother, motherhood, music, musician, petticoat rule, pittsburgh, singer, tara molesworth, the rents, vocalist, women

Busy lead vocalist Jocelyn Rent joins Petticoat Rule to talk about balancing her creative roles in Pittsburgh-based bands Anjroy, The Rents and Bachelor Boys with her family life as a mother of two little ones.