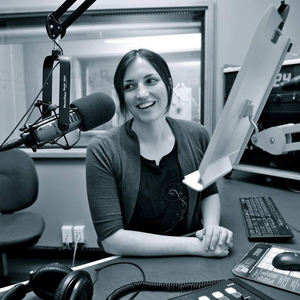 Cindy Howes
Special guest
Cindy Howes has been hosting on WYEP (first as The Morning Mix Host, then as The Evening Mix Host) since 2007. She's cultivated a loyal audience in Western PA for the past decade through her personable approach and innovative music curation. Howes prefers a more experimental and progressive music mix, while still being tuned into her lineters' favorites. An ecstatic advocate of the Pittsburgh music scene since arriving in town, she's introducing WYEP listeners to acts like Donora, The Buckle Downs, Choo Jackson and many more through the weekly local music spotlight The Local 913. Howes prides herself in being a champion of getting more hip-hop on WYEP's airwaves through regular airplay and her nightly segment "The Hip-Hop Spot," which aims to educate listeners about rap through the lense of well-versed experts in the community and beyond.
Originally from Massachusetts, she attended Emerson College and has worked at radio stations like WERS, WBOS, WBUR and WBZ in the Greater Boston area. A passionate folk music fan, she also worked a stint at the historic Club Passim in Harvard Square where she was immersed in the rich singer/songwriter and Americana community found there.
Listen to Cindy:
The Evening Mix, Mon-Thurs 6-10pm
Check out Cindy's specially curated Spotify Playlist!
Cindy Howes has been a guest on 1 episode.
April 9th, 2018 | 1 hr 30 mins

90's, 91.3, 91.3 wyep, broadcaster, cindy howes, creative productivity, creativity, dj, eddie vedder, erika june christina laing, erika laing, farming, female, female radio dj, feminism, feminist, host, interview, interviewing, music, music education, musician, oprah, petticoat rule, pianist, piano, pittsburgh, podcast, productivity, rachel maddow, radio, radio host, radio voice, sheep, tara molesworth, tori amos, vocal coach, where the music matters, woman, women, wyep

Radio host Cindy Howes from 91.3 WYEP stops by Petticoat Rule to talk about how she became an influential woman in broadcasting, the effects of the Telecommunications Act of 1996, and about the art of interviewing.