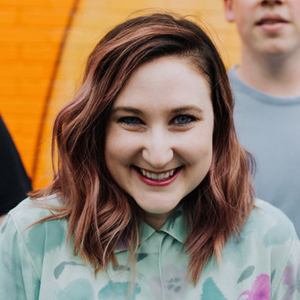 Casey Hanner
Special guest
Casey Hanner is the lead vocalist and lyricist of the Pittsburgh-based pop sensation, Donora. Also in the band is Casey's brother, Jake. "We didn't grow up listening to a lot of the same music," explains Casey, "but when we started writing together, we realized that we approached creating music in the same way." The brother sister duo also quickly realized that their shared upbringing could translate to solid pop tunes. The recording process has always been a family affair for Donora, with bassist Jake Churton an honorary part of the family. The Hanners were raised in a musical household, living over the recording studio their father runs. It was their father who suggested the duo even play together in the first place. Casey's bedroom was directly above the studio's control room, and she attributes her ability to sleep through anything to this fact. Jake grew up watching his father in the studio and happened to pick up a thing or two. Donora's fourth full-length release on Rostrum Records is titled Sun To Me. As the band puts it, this album is about choosing love. Casey explains, "When it's hard to make sense of everything around you, you can always escape to a world of light and love through music."
Check out Casey's specially curated Spotify Playlist!!
Casey Hanner has been a guest on 1 episode.
February 26th, 2018 | 55 mins 3 secs

casey hanner, country, country music, donora, donora band, erika laing, female, female guitarist, female musician, feminism, feminist, guitarist, lyricist, mom, motherhood, music, music educator, musician, new mom, petticoat rule, pittsburgh, podcast, pop, pop music, professional musician, rock, songwriter, tara molesworth, teacher, vocal coach, woman, woman musician, women

Pop songwriter Casey Hanner from the Pittsburgh-based band Donora joins Petticoat Rule to talk about the experience of being on the Rostrum Records label, hearing her tunes in movie and TV placements, and being a new mom and releasing a new album at the same time.