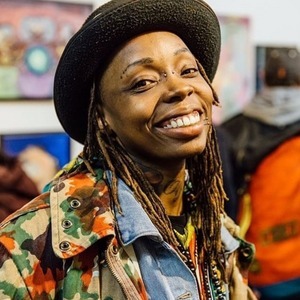 Blak Rapp MADUSA
Special guest
Born in Harrisburg, Pennsylvania- Mel box Carter, Also known as Blak Rapp M.A.D.U.S.A., emerges from those humble streets to take the conscious music movement by storm. Through spoken word and melodic lyricism this rapper, poet, activist and historian paints a vivid picture of her culture via social and political justice interwoven with spiritual inspiration.With a degree in Africana Studies from the University of Pittsburgh, M.A.D.U.S.A., whose name is an acronym for "Making A Difference Using Skills and Activism", uses her vast knowledge and experiences to relate to the masses.
M.A.D.U.S.A. came of age in the Third Ward, a.k.a."The Trey" area of Houston, Texas, which along with being one of the country's most dangerous communities has produced the music & entertainment icons Debbie Allen,The Ghetto Boys and Beyonce Knowles. It was there M.A.D.U.S.A. discovered her lyrical talent and subsequently recorded her first critically acclaimed single "It's On" in 2007, with Trickle Down Entertainment , a politically conscious independent record label. From poetry slams, freestyle battles and talent shows nationwide,she has displayed her colorful perspective and unique lyrical ability. Her outstanding reputation, along with her work with numerous community outreach organizations, such as Community Empowerment, New Voices Pittsburgh, and Scientific Soul Sessions,has made her a very sought after champion of the people.
She is currently on a youth organizing campaign with SOUL (the 'School Of Unity and Liberation') that is based in Oakland, California. This multi-talented artist is on a mission to change the world by spreading a positive message and call to action for all poor people through her musical expression and activism.
:::LISTEN TO HER MUSIC BY CLICKING HERE:::
:::CHECK OUT HER SPOTIFY PLAYLIST:::
Blak Rapp MADUSA has been a guest on 1 episode.
February 12th, 2018 | 1 hr 20 mins

activism, activist, african american, artivism, artivist, black, blak rapp, blak rapp madusa, creativity, erika laing, female, female hip hop artist, female rapper, feminism, hip hop, madusa, mass incarceration, minority, music, musician, petticoat rule, pittsburgh, political, productivity, rap, singer, singer-songwriter, social issues, spirituality, tara molesworth, unapologetic, woman, woman rapper, women

Hip-hop artivist Blak Rapp MADUSA joins Petticoat Rule explaining her music's political themes against mass incarceration, white supremacy, and systemic racism, as well as giving insight into the challenges of life as a female hip-hop artist.